Oct 13 (GV) The EleFriendly Bus celebrated its first birthday on September 9 in the Wasgamuwa area of Sri Lanka. The bus is an innovative project developed by the Sri Lanka Wildlife Conservation Society (SLWCS) to mitigate the human-elephant conflict (HEC).
The conflict between humans and elephants has grown in Sri Lanka as elephant habitats shrink and humans slowly encroach upon spaces where elephants roam. Elephants, having nowhere else to go, end up raiding crops in farmlands and human habitats in search of food and become aggressive in encounters with retaliatory humans. This cycle of resistance, fear and contested space has led to violence.
Each year in Sri Lanka, elephants kill approximately 50 people and then face a fatal consequence as villagers shoot, poison or electrocute them out of fear or self-defense. Between 100 to 150 elephants are killed yearly and statistics show that the potential for conflict is highest when humans walk in spaces where elephants normally roam.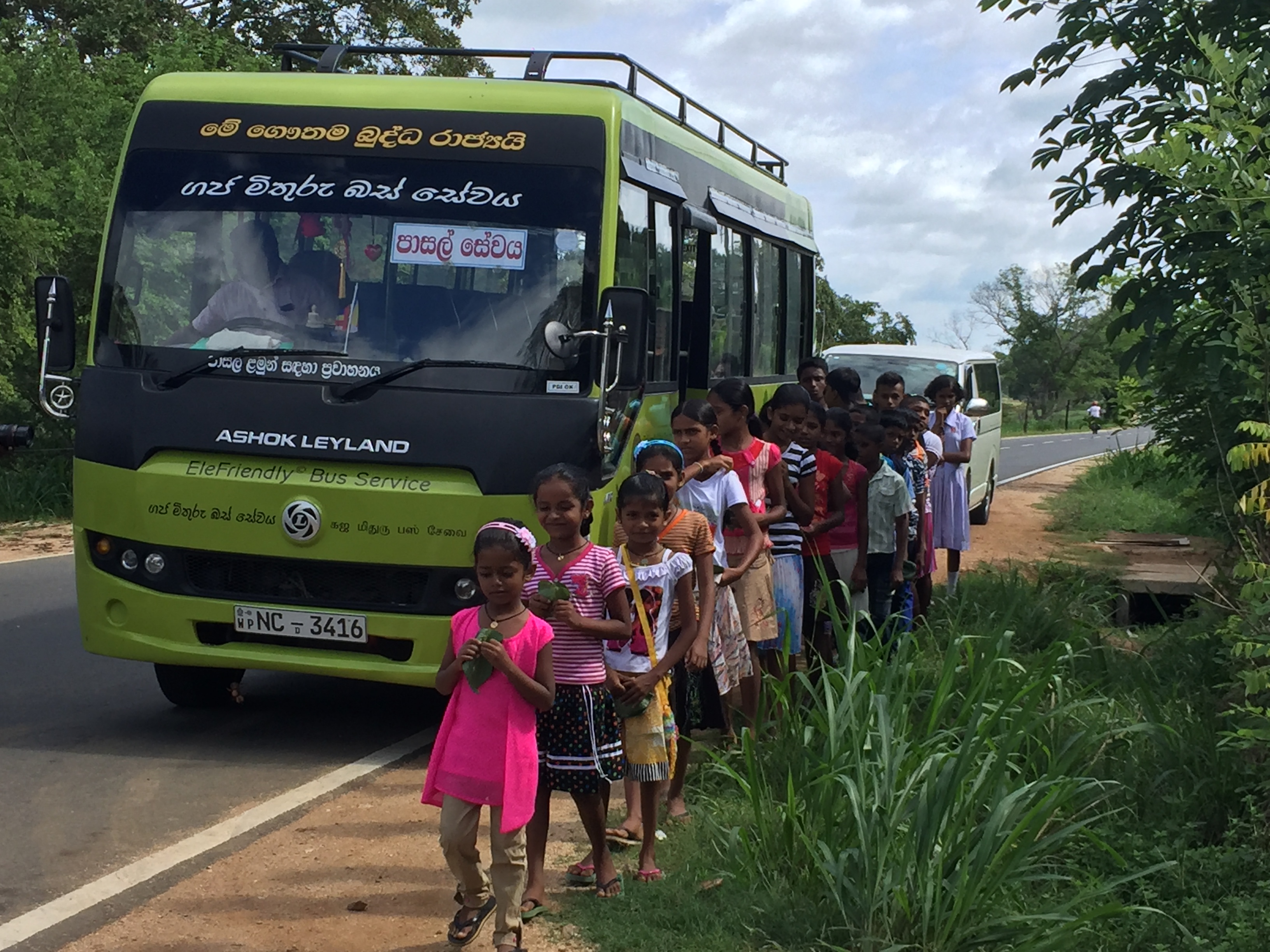 The Sri Lankan government has focused on broad-scale measures to mitigate HEC such as fencing or relocating elephants or producing 'mass-drives' to steer elephants away from human activity. However, these strategies do not recognize HEC at the local level and the Elefriendly Bus was developed to address this.
Since last year, the EleFriendly Bus runs daily to provide children with free and safe transportation to and from school, keeping them out of elephants' corridors. Adults also use the bus to go to and from work for a nominal fee. An average of 191 people use the bus on a daily basis and about 72 are children.
The bus route travels through the 'elephant corridor' in villages in the central province including Himbiliyakada, Iriyagasulpotha and Weheragalagama, where elephants frequently roam and potential HEC remains high. Located along the southern boundary of Wasgamuwa National Park in a protected forest preserve area, human sometimes frequent the area and encounter elephants on-route in search of forest resources and water outside the park.
Saram-Larssen, a 12-year-old student at the British School in Colombo, produced an informational video detailing fundraising efforts to launch the bus last year. Holding a bake sale at the British School, she and her team were able to raise 127,484 Rupees (approximately 834 USD) toward the Elefriendly Bus, which cost approximately 35,000 USD total with fees including an operating permit and permission to charge a fare from commuters on public roads: